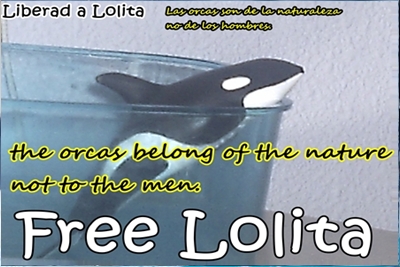 Lolita's Story
Lolita is a 42 year old captive killer whale (orca) living at the Miami Seaquarium in Florida. Since her brutal capture in 1970, she has been kept in a tank that is illegal by the Animal Plant Health Inspection Service (APHIS) standards for size requirements. Lolita is approximately 21 feet long and 7,000 pounds. Her tank is 20 feet deep at the deepest point and a mere 12 feet deep around the edges. The pool is only 35 feet wide. The Miami Seaquarium is considered to be one of the most dilapidated aquatic parks in the world. It is in need of major repairs, and per the Marine Mammal Inventory Report, has a substantial death rate for their animals.
Speak Out for Lolita the Orca Whale!
Steps to help Lolita's Retirement become Reality:
The best thing we all can do for Lolita is boycott the Miami Seaquarium. Encourage your friends, family, classmates, and co-workers not to visit Seaquarium or other dolphin theme parks.

Educate yourself and others. Read the links and information on this site. Spread the word about Lolita on Myspace, Facebook, Twitter, YouTube, or your blog!

Arrange a screening of the award winning documentary,

"LOLITA: Slave to Entertainment"

, at your school, church, community center, library or PBS station. You can view it at the link above or purchase a copy on

Amazon

4.) Spend an hour writing letters to help Lolita! Letters do make a difference! Click

here for a list of people to write to

in order to retire Lolita. Click

here for sample letters

to use and customize.

Follow this link

for dozens of ways

to help wild orcas, including Lolita's family pod!

Please call the Miami Seaquarium to ask for Lolita's retirement at (305) 361-5705.

Attend the protests, which are held on the last Saturday of every month from 12:00-2:00 outside of Seaquarium, located at 4400 Rickenbacker Causeway. Banners and leaflets are provided. Just bring yourself and your friends! Upcoming 2010 protests are March 27, April 24, May 15, and June 26.

Please boycott the following companies that sponsor Miami Seaquarium: Coca Cola, Tropicana, Kodak, and Princess Cruise.